We invite you to become part of the heartbeat of Joyful Faith Ministries. Join us with your heart and hands! How? Here are some ideas: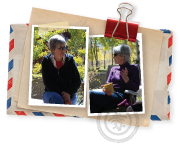 * Sign up for our Newsletter to get the latest goodies, then forward the newsletter to your friends.
* Email a link of this website and invite your friends. Just copy: www.joyfulfaith.net into your email. Hey you're having fun here, let's make it a party!
* Join us in personal study. We invite you to join the multitude of people who found answers through Joyful Faith Ministries. See our Corner Store for exciting studies that can awaken your heart and free you from your struggles. It's fun to live free!
* Start a Joyful Faith study group with friends. It's easy, just invite ladies over to explore together. Lives are changed, often quite dramatically! And it gives you the fun of learning in fellowship with others. No experience or training is necessary to facilitate a group.
* Attend our Events! These exciting Seminars are always packed with intensive teaching, heartfelt warmth, and genuine fellowship!
* Invite Marijo to speak at your seminar or retreat. See our Seminar form to explore some options. Be sure to tell us: who to contact, your proposed dates, location, and who is sponsoring, etc.
* Share with us how this teaching changed your life. Your Comments are so important to us. We would love to hear your feedback.
* Passionately devour God's word, focus your mind to awaken to His truth. Learn as if your life depended on it. It does.
* Live this message! Love one another with a pure heart fervently. Rest in and trust God's promises even for difficult people; honor one another knowing God's desire to restore them also. Forgive those who wrong you and desire their awakening, Cherish other people's hungry hearts, and communicate the glorious love of Christ to everyone. As you follow this pathway of Christ, your own life will be transformed!
* Of course, your prayers for this ministry are so greatly appreciated. Together, let's take this message to the world!